I put this up at my regular blog,
Allthingspurple
, but thought i should be putting this post at my food blog instead, so I am adding this post here as well.
My 2 1/2 year old toddler is now attending kindergarten, so that i could afford some time to clear up my work at the office. Besides getting her to adjust to a new environment, my other concern is that she doesnt go to school with a full tummy.
She is not a formula baby, being breastfed till now. And with my MPI going down, i had needed to make sure she had something to eat before I send her over. Which is not always the case.
She turned up her nose at the fried rice and fried noodles the school offers, cos she like her rice plain and her veges seperated.
So, inspired by
Montessorimum's
bento, I started packing food for AShley as well.
My first clumsy attempt after a rusty 4 years of not packing lunchbox for Kimberly. But it will have to do from my then scanty refrigerator.
It's weiners, cut up. And a moulded boiled egg. The little pink apple tube contained soy sauce.
Not exactly a bento, which should consist of 3 part carbo, 2 part vege and one part protein. So i added a stick of grapes on the side, but didnt have time to snap a pic cos Ashley had wandered off to the front without supervision.
I found this Bento container which i used to pack lunch for Kimberly a few years back when she was attending kindergarten. I have forgotten how pretty it is.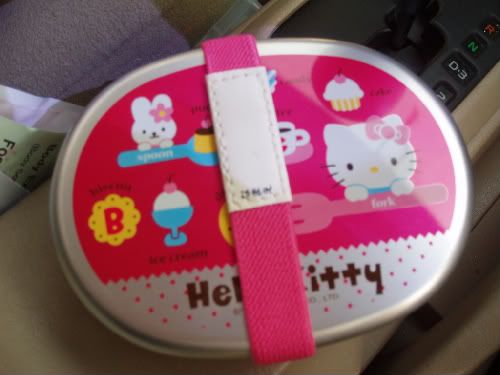 But i think i need to get a bigger one for times when i wanted to put more food.
On Thursday, she had pancakes for school, with slices of apple and fried nuggets on the side. That's because we had pancakes for Wednesday's tea time and it is convenient to pack for the next day's bento.
It's pancakes cooked in a moulded pancake pan.
I forgot to take pic of that day's bento. So will post this pic instead.
Kimberly had it with maple syrup while Ashley had it with jam.
This is Ashley's Friday's bento. Its rice moulded in a teddy bear plastic mould, with weiners and grapes again.
Same food. So boring...sigh.. cos I haven't replenish my fridge yet. Been meaning to get some baby carrot, some cherry tomatoes, ham slices and stuff.
This is today's bento.
It's origini that i made over the weekend. I froze a batch of it. With the advise from
Natesgirl
, I learn that I could freeze them in batches and that I could steam it up mighty quick in the microwave. Never knew that one could steam rice other than in the wok or the steamer. hee hee..
I took one out and cut it up so that Ashley could pick it up with her fingers. She doesnt fancy it wrapped in seaweed or omelette.
I skewers some apple cubes in the lower container and added some soy braised chicken in the upper container together with the rice, on the side. At first i attempted to skewer them as well, but they broke up cos I cut up the chicken pieces too small. so in the end, i gave up and put them in a side dish instead.
I packed this in a new container I got from the 100yen shop at SS2 when we went to SS2's pasar malam yesterday.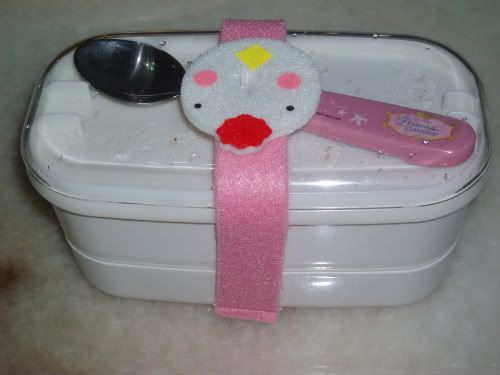 I got the container for only RM4.90. Such a good deal, yea?
Its been sometime since i have been into bento, and that was a long time ago (about 5years ago?) and nowadays i see some really cool tools and bento kits on the net. I am going to get myself some new bento tools soon. This bento thing can get addictive. ha ha.
Have a great day today, all !!